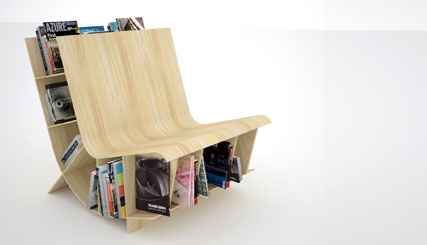 Made from bent plywood, the Bookseat is a sleek piece of furniture which is also a storage solution; you guessed it, the perfect solution for small houses and compact living spaces.
Available with a felt cushion in customizable colors, the Bookseat is a simple bookcase that playfully curves and becomes a seat; another great example of a multi-functional usage of space in today's urban living.
Fishbol Design Atelier is a Canadian based workshop studio established by design-duo of elie and mani. This workshop specializes in extremely original, high-impact projects for architecture, interior, event installations, furniture, product and fashion design.