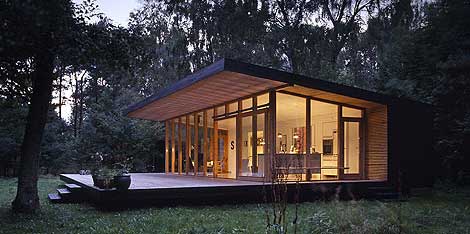 This modern architecture design comes from Danish Christensen & Co Architects (CCO). The architectural design of this small modern residence is based on the idea of a timber clad raft, carried on piles leaving the house to hover just above the grass.
Located in the woodlands between the coastline and the lake of Arresø, this modern design raft was placed among the dense vegetation with a few trees providing shade and a sense of depth.
The raft folds up and around the internal space, forming the back to the North and the ceiling ends in a large cantilevered canopy which stretches out above the terrace. The fold creates a simple and clear frame around the internal space and the terrace which works as one space emphasized with large sliding doors that connects the inside with the outside.