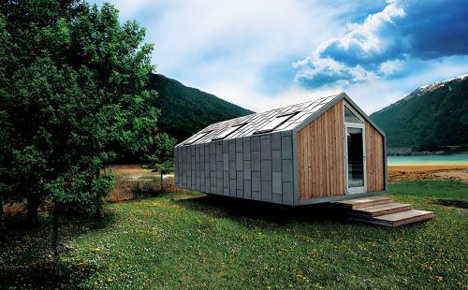 materialicio.us covered the Joshua Tree prefab:
steel skinned prefab with a wooden interior described as a 'mountain refuge', presented at the recent Milan Furniture Fair.
A number of blogs covered the EvolutiV House. Archinect saw it first. MoCo Loco picked up the trail. Treehugger added some details:
The 70 square meter Maison evolutiV was shown at the Salon Européen du bois et de l'Habitat Durable in April....
It is a low consumption modular wood home, ...composed of 2 prefabricated units...
materialicio.us saw the home. And Inhabitat's Prefab Friday liked the home enough to feature it:
The beauty of this design lies in its chestnut façade and inviting floor plan, but also in its small ecological footprint.
Treehugger wrote about a series of prefabs from Swedish company Next House (no relation to Empyrean International's NextHouse). We'll cover those in more detail down the line.
Jetson Green, in conjunction with PrairieMod, visited MKD's mkSolaire at the Chicago Museum of Science and Industry. We'll cover the unveiling in more detail soon.