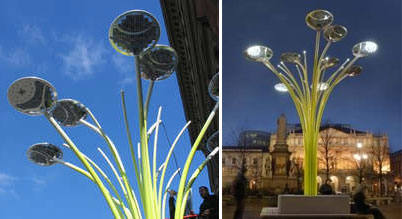 Solar landscape lighting or solar outdoor lighting, as you might call it, is on the rise! Artemide, an Italian company specializing in designer lighting systems, and the German company Sharp Solar, the world's largest producer of photovoltaic (PV) cells has joined forces to produce the Solar Tree, designed by British designer - Ross Lovegrove.
These solar landscape lighting trees prototype provided enough light during the night-time at the Ringstrasse in Vienna, Austria, although the sun did not show for as much as four days in a row. The branches of the solar tree were decorated with 10 solar lamps, each one comprising 36 solar cells; they also had rechargeable batteries and electronic systems.
"The solar cells on the tree were able to store enough electricity in spite of receiving no direct solar light for days at a time because of the clouds. They showed that solar trees really are a practical form of street lighting," Christina Werner from Cultural Project Management (Kulturelles Projektmanagement, Vienna) told RenewableEnergyAccess.com.
Source