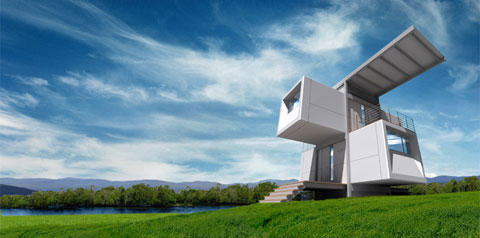 Prefab home ZeroHouse is a comfortable, completely automatic, super efficient home. This prefab home features a living room and kitchen on the first level, a full bath, two bedrooms and a deck on the second level. The ZeroHouse prefab home can be fully customized; from a weekend getaway to an extended-stay home.
I really like the ZeroHouse unique architectural form; it seems as if a modular spacecraft has landed and it's just about to transform into a nano-shaped particle.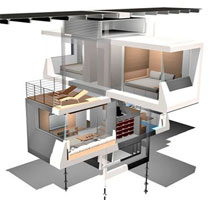 The ZeroHouse prefab home has a high-efficiency air conditioning/heating system and closed-cell structural foam insulated walls, roof and floor among its various green features.
The roof solar panels produce and store power, a rainwater collection plane gathers and diverts water into an elevated 2700 gallon cistern. All organic waste is processed and converted to dry compost in a digester unit located beneath the house.