" US green architect to unveil new speculative 40-storey skyscraper at World Future Energy Summit in Abu Dhabi later this month Green architect and writer, William McDonough, has come good on his promise to Fortune Magazine to design a speculative tower for the future. The skyscraper will have a "100% positive impact on people and places".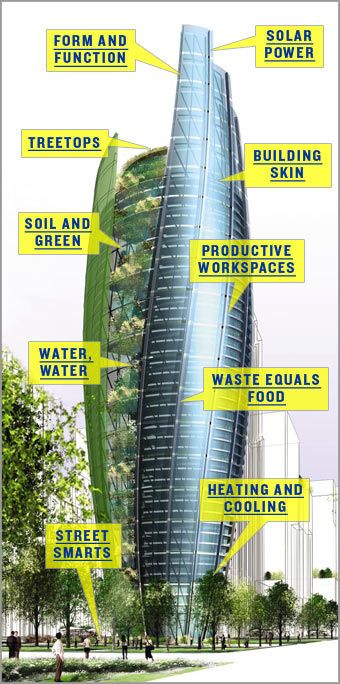 " … Buildings consume 40 percent of our energy and can have life spans longer than humans. Because we live, work and associate with others in buildings, they form part of the fabric of human life—and thus have an enormous effect not only on the quality of individual lives but also on the state of the earth. … we have configured a structure that is not just kind to nature; it actually imitates nature. Imagine a building that makes oxygen, distills water, produces energy, changes with the seasons—and is beautiful. In effect, that building is like a tree, standing in a city that is like a forest.
– By William McDonough, founder and principal of William McDonough & Partners (Fortune)
Shaped like a cross between the Gherkin and a cone shell, the 40-plus story tower by William McDonough + Partners, encompasses trees and other greenery and, so the architect claims, will behave like a tree. "It's a building that receives its energy from the sun, that grows food, that builds soil, that provides a habitat for hundreds of species, that changes colours with the seasons, that creates micro-climates, that would purify water," He said. "A building that would do just about everything a tree can do except self-replicate."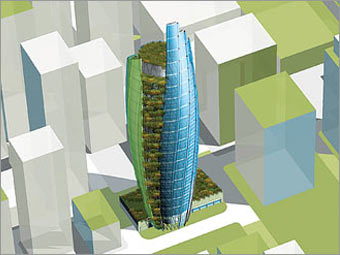 "
Form and function
Curved forms increase structural stability and maximize enclosed space; this reduces the amount of materials needed for construction. The shape is also aerodynamic, diffusing the impact of wind."
The building encloses a series of "atrium gardens" on the western side with plants intended to clean the air inside the building. The northern side is covered with clear glass in front of mosses which should absorb particulates in the air. The building recycles waste water for use in the building's gardens which, when cleansed by the plants, will be fed back into the grey water system once more.
The south side of the building is made up of 34,000 sq m of solar panels, meeting 40% of the building's energy needs. A combined natural gas-fuelled heat-and-power plant, operating at 90% efficiency supplies the missing 60%.To cut down further on energy, workstations are fitted with presence sensors shutting down when people aren't there and adjusting heat, light and sound when they are. "We don't heat or cool ghosts," says McDonough, mysteriously.He and Cradle to Cradle co-author, Michael Braungart, will talk about the tower among other ideas at the World Future Energy Summit which takes place in Abu Dhabi on the 21-23 of January. Lord Foster is due to give the closing speech at the event. McDonough is credited with creating the first solar powered house in Ireland and received the first and only Presidential Award for Sustainable Development for an individual in 1996.
A spokesperson for the practice confirmed there had been no concrete commissions for the building so far.