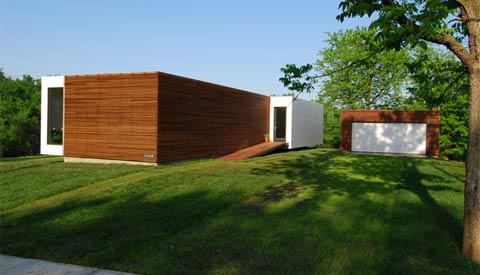 Prefab home Modular 4 is Studio 804's most ambitious project to date. Consisting of seven modules, the 1500 square foot home features a remarkably flexible floor plan anchored by a core of service space that defines the interior, while the seven modules are offset in the middle to separate public and private, creating a bold four-foot cantilever on either side of the house.
In contrast to its contemporary appearance, this prefab home design addresses materiality and energy efficiency concerns. The north facade was kept tight to protect from cold winter winds while the south façade was opened up with broad glass to flood the living space with natural light and take full advantage of the sun's heat in the winter. The cellulose insulation in the walls, floor and ceiling was made from recycled materials and offers superior thermal and moisture protection.

This prefab home also features many other sustainable materials which include: bamboo flooring, recycled countertops, adjustable thermal window protection, a porous driveway, FSC approved Brazilian hardwood and recycled aluminum siding, ventilating skylights, and a white "cool" roof.
Studio 804 is a design/build program at the University of Kansas School of Architecture and Urban Design focused on the creation of community based architecture. During this final exercise, the students collaborate to bring a housing design to fruition that provides architectural solutions with an emphasis on affordable homes.